Luscious Leather has a range of horse care products and accessories designed by horse owners for horse owners. Constantly tested with our own horses, modified and refined as required, these products look and feel as fit for purpose as they prove themselves to be in the field. They also have a sense of style about them as Leonie feels the practicality and functionality of her products are enhanced by acknowledging that they can look good too!
---
Hoof Care Wrist Guards - Made from leather or suede and can be matched to Apron colours if desired. Designed to protect the user from wounds and infection from slipping with the knife, rasp marks, chipped hooves and risen clinches.



Features are:

2 sizes - Regular and Large. Regular fits most women and Large for men.
Adjustable Velcro closure.
$35 inc GST per pair.
---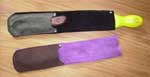 Rasp Covers with pocket. Hoof Care Rasp/Nipper Covers - made from suede or leather. Simply pour some oil inside the cover and create a rust free environment for your rasp. It also protects the rasp from burring when not in use. Covers also come with a pocket to store a hoof knife with the rasp.
$18 inc GST each.
---
Velcro / Webbing Hobbles - made from 50 cm seatbelt webbing backed with 50 cm velcro. These hobbles are very portable for camping, droving etc. They do not create abrasion on the horse's legs and can be fitted above the knee, on cannons or on pastern. Sizes are Pony, Regular and X Large. Regular fits all size horses if need be. Pony differs in length of the straps and X Large is slightly longer between the legs.
$55 inc GST per set.
---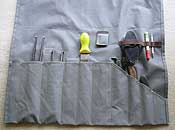 Tool wrap.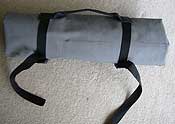 Tool Wraps ... made from durable canvas in a variety of colours with 2 straps to secure it shut with quick sliding fastex clips. Also features a handle to make carrying your tools easier. Specially sized pockets for your hoof care tools plus a handy elastic loop strip for those little things like texta, pen, scissors etc.
These are also handy for the hobbiest, mechanic, carpenter or as a spare set of tools to have in your vehicle.
$66 inc GST each.
---
Order Form for Hoof Care Accessories
Name:
Address:
Phone:
Mobile:
eMail:
WRIST GUARDS (remember to fill in your contact details above)
Quantity:
($35 inc GST per pair)
Colour/s Required:
Size:
RASP/NIPPER COVERS (remember to fill in your contact details above)
Quantity:
($18 inc GST each)
Colour/s Required:
HOBBLES (remember to fill in your contact details above)
Quantity:
($55 inc GST per set)
Size:
TOOL WRAP (remember to fill in your contact details above)
Quantity:
($66 inc GST each)
Colour:
HOW DID YOU FIND THIS SITE?
Found by:
Other:
Referred by:
POSTAGE: 1 item $9.00; Up to 6 items $15.00
If your order is straightforward and you do not feel the need to confirm prices or details, you may pay via internet banking to:
Account name: Leonie Tainsh
BSB: 083 760
Account number: 82918 7874
Or via PayPal 'Send Payment' to leonietainsh@gmail.com
---
Don't forget to also click "Send Order" below to send the details of your order to Leonie.
---
Select your payment option below and then click the "Send Order" button to send your order, which will be confirmed via email, and shipped with notification once payment has been received.
Alternately, in order to accommodate your individual needs, Leonie is happy to contact you directly and discuss your personal requirements. Practical solutions for personal needs!!! So to discuss your order and get the total price including any customised requirements select the most appropriate option below and then submit this form via the "Send Order" button:
Please note your order will not be shipped until payment has been received and any cheques cleared. Luscious Leather accepts any and all of the following: Direct Bank Deposit, Bpay, Cheque and/or Money Order.
---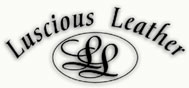 For further information, leather and lining samples please contact Leonie:
Phone: 03 58622787
Mobile: 0438 262509
eMail:
Address: 1980 Boothroyd`s Road, Numurkah. Vic. 3636.