Luscious and Soft - Convertible Leather Handbag.
Designed By a Woman, For a Woman!!
Leonie has personally created this design to suit the needs of busy women requiring a quality and uncomplicated bag that will last for years. Weaknesses and parts that lack durability in a generic bag have been eliminated and replaced with a practical and durable solution.
Durability and Function Tested
( Click on the arrows on the photo below to see and read more of our great features! )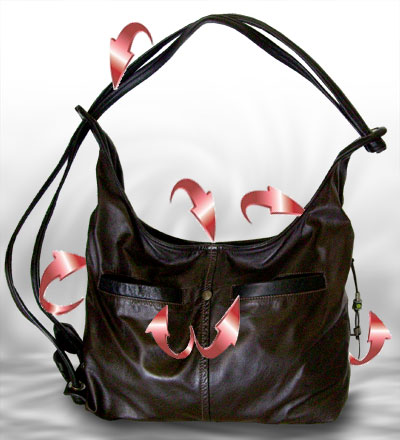 Top closure by zipper and/or magnet clasp.
Answer your phone before it rings out. Choice of Left or Right hand phone pocket with magnet clasp.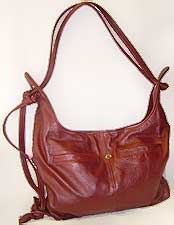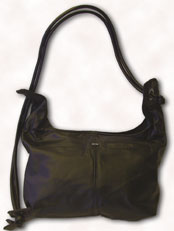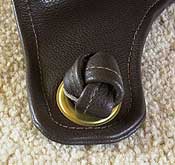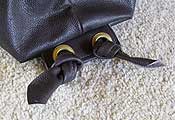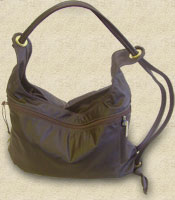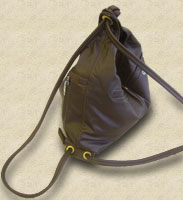 The combination of dimensions and contrasting lining colour ensures easy access to contents:
Dimensions: (Bag lying flat)
Standard:
- Width: 42cm
- Depth: 30cm
Small:
- Width: 37cm
- Depth: 25cm
Travelling? Inside zipper pocket fits your Passport and glasses etc. The combination of zip closure and sliding handles makes it easy to carry the bag across your body and close to your chest to keep the contents safe.
No weak points that break to render the bag unusable. To adjust straps simply slide through eyelet. Shorten the total length of each strap simply by moving a knot.
Safety features - especially for mums with small children:
Keys are located instantly with one hand, even of the bag is zipped shut - no need to fumble or let go of your childs hand. Also suitalbe for your USB sticks.


Be hands-free in a flash to tend to your child or manage both the child and the shopping ... Quickly slide the straps and flip the bag across your body or onto your back.
Colours: Black, Chocolate with brown stitching, Chocolate with contrast light stitching, Black with chocolate combo, Chocolate with black combo.
!! Stock Clearance !!
Price Reduction: Standard or Small - was $245, now $175 until stock sold!
All individually hand made.
Order Form for Luscious Leather Ladies Bags
Name:
Address:
Phone:
Mobile:
eMail:
Convertible Bags
Colour:
Size:
Quantity:
HOW DID YOU FIND THIS SITE?
Found by:
Other:
Referred by:
POSTAGE: 1 item $9.00; Up to 6 items $15.00
If your order is straightforward and you do not feel the need to confirm prices or details, you may pay via internet banking to:
Account name: Leonie Tainsh
BSB: 083 760
Account number: 82918 7874
Or via PayPal 'Send Payment' to leonietainsh@gmail.com
---
Don't forget to also click "Send Order" below to send the details of your order to Leonie.
---
Select your payment option below and then click the "Send Order" button to send your order, which will be confirmed via email, and shipped with notification once payment has been received.
Alternately, in order to accommodate your individual needs, Leonie is happy to contact you directly and discuss your personal requirements. Practical solutions for personal needs!!! So to discuss your order and get the total price including any customised requirements select the most appropriate option below and then submit this form via the "Send Order" button:
Would you like to purchase a bag as a gift for a loved one? Let Leonie know when she contacts you and your gift can be wrapped and sent directly to the lucky recipient!
Please note your order will not be shipped until payment has been received and any cheques cleared. Luscious Leather accepts any and all of the following: Direct Bank Deposit, Bpay, Cheque and/or Money Order.
---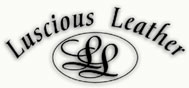 For further information, leather and lining samples please contact Leonie:
Phone: 03 58622787
Mobile: 0438 262509
eMail:
Address: 1980 Boothroyd`s Road, Numurkah. Vic. 3636.