Luscious Leather Custom made chaps - made from split leather suede or leather backed suede.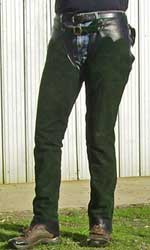 Features:

Plastic chunky zips which helps eliminate zip seizure from dust, sweat and horse hair.

Buckle up front with criss-cross lacing or just plain reinforced band at the back.


A section of elastic is inserted at the top of the zippers to ensure a snug fit on the thigh.
Priced from $235.
Your Chaps can be customised with conchos and decorations which can be added by request.
---
Order Form for Luscious Leather Chaps
Name:
Address:
Phone:
Mobile:
eMail:
CHAPS
Colour:
Black Brown Other:
Belt Buckle:
Brass Silver
Mobile/Knife Holder:
No Right Leg Left leg (add $20)
Boot:
Size:
Extra features:
Measurements:
HINTS:

Taken while standing from floor to hip
Around hips
Around highest part of thigh as close up to crutch as possible
Around the largest part of thigh
Around knee while standing
Around largest part of calf
Around ankle over the top of your boot
Distance from B to C
Distance from C to D
Distance from D to E
Distance from E to F
Distance from F to G
Distance from G to the floor in your boots.
[ Photos from front, rear and side would also be helpfull. ]
HOW DID YOU FIND THIS SITE?
Found by:
Other:
Referred by:
EXPRESS POSTAGE on aprons, bags, chaps and gaiters is $15;
Other items $8. Save on freight by combining items.
If your order is straightforward and you do not feel the need to confirm prices or details, you may pay via internet banking to:
Account name: Leonie Tainsh
BSB: 083 760
Account number: 82918 7874
Or via PayPal 'Send Payment' to leonietainsh@gmail.com
---
Don't forget to also click "Send Order" below to send the details of your order to Leonie.
---
Select your payment option below and then click the "Send Order" button to send your order, which will be confirmed via email, and shipped with notification once payment has been received.
Alternately, in order to accommodate your individual needs, Leonie is happy to contact you directly and discuss your personal requirements. Practical solutions for personal needs!!! So to discuss your order and get the total price including any customised requirements select the most appropriate option below and then submit this form via the "Send Order" button:
Please note your order will not be shipped until payment has been received and any cheques cleared. Luscious Leather accepts any and all of the following: Direct Bank Deposit, Bpay, Cheque and/or Money Order.
---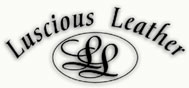 For further information, leather and lining samples please contact Leonie:
Phone: 03 58622787
Mobile: 0438 262509
eMail:
Address: 1980 Boothroyd`s Road, Numurkah. Vic. 3636.